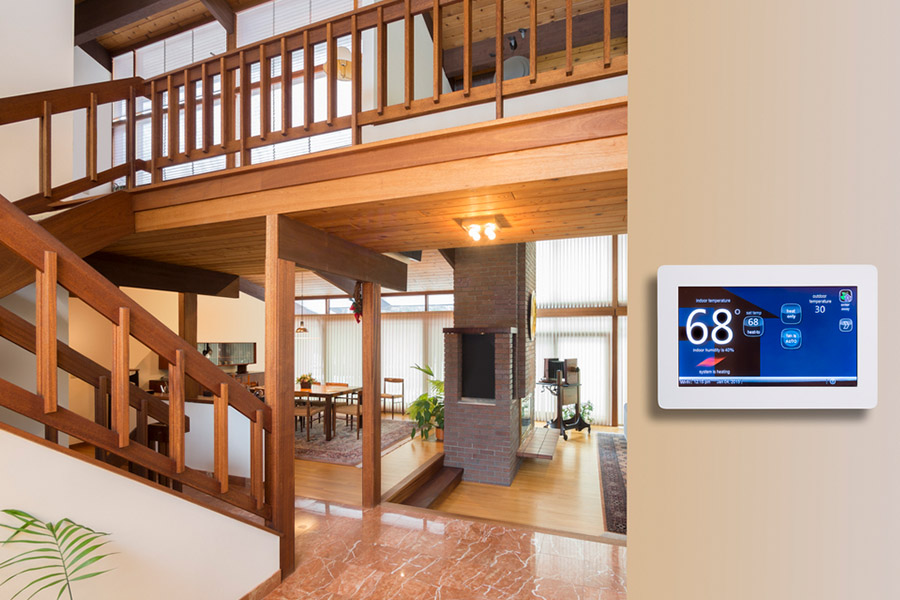 Should You Install A Smart Thermostat In Orlando? | Secure24 Alarm Systems
The latest smart thermostats have evolved well past the point of being just a simple dial or switch for adjusting your temperature settings. If you want to install a smart thermostat in Orlando, you're going to enjoy much more comfort with less effort on your part. Equipped with Wi-Fi, multi-room sensors, and home automation, these remarkable instruments will bring down your heating and cooling costs and improve your home's overall comfort and safety.
What Are Smart Thermostats In Orlando?
After your install a, your smart thermostat will operate in a similar manner as your previous model in terms of core usability. The look may be a bit more elegant, but you'll still be able to glimpse the current temperature. You will still raise and lower the heat and A/C from the device, and a smart thermostat still offers the ability to choose from heat, cool, and fan.
But, if you install a smart thermostat in Orlando, you will enjoy a wide array of exciting options. That's because your home's comfort control is linked into a greater network, like an AI assistant or your comprehensive home security. With a smart control panel or mobile app, you may program your smart thermostat to adjust the comfort levels in an automated manner at different times of day or to react to a triggered event in your network. The result is a home that is more energy conscious and comfortable.
It Makes Sense To Install A Smart Thermostat in Orlando
There are various justifications for switching from your old device to a smart thermostat:
● Simple management via a mobile app. You can direct the thermostat remotely via a smartphone app such as the intuitive platform from ADT. Are you feeling a bit overheated as you're trying to sleep? Just open your phone and turn on the air while staying in bed. Or check on your property's temperature while on summer break, and tweak the settings to conserve energy if your house is empty.
● Set a schedule. An innovative smart thermostat can be configured with a schedule for your HVAC system. Arrange various temperature adjustments to best fit your lifestyle. Bring down the temp for bedtime, then increase it about an hour before you start your day. You might even create specific scenes based on "events" -- such as a scene for entertaining or another for when the fireplace is being used.
● Reduce energy consumption with automation. One of the best things about smart thermostats is how they can reduce utility costs. You have the ability to simply modify temperature settings as needed in regards to seasonal fluctuations, weather, or specific times of the day. There's no need to spend excess energy treating the air within a vacant residence. Additionally, when implementing schedules, your clever new tool makes automatic adjustments. Various utility services are known to extend incentives and rebates under specified circumstances.
● Utilize vocal directives to direct your home. If you choose to install a smart thermostat in Orlando, you can also hook it up to work with an Amazon Alexa or Google Home speaker. This gives you the ability to adjust the temperature without stopping what you're doing.
● Link your thermostat to additional home automation items. When your smart thermostat is incorporated within an overall home protection plan, you have the chance to connect all your components into an interactive group. This helps safeguard your house when emergencies arise. To illustrate, you can program your thermostat to activate the HVAC fan if your fire alarms sense excess heat.
Get A Smart Thermostat In Orlando Today
If your current thermostat fails to satisfy your home comfort requirements, it may be time to consider upgrading to an innovative smart model. These wirelessly connected components are streamlined, easy to use, and will noticeably lower your energy expenses in the long run. You stand to reap the most benefit when you combine it with a state-of-the-art home security system. Call us today at (407) 789-2352 or complete the following form to order your smart thermostat in Orlando.
Cities Served Around Orlando By Secure24 Your Local ADT Authorized Dealer